Bishop Lowe celebrates 185th anniversary of first NZ Catholic Mass at Totara Point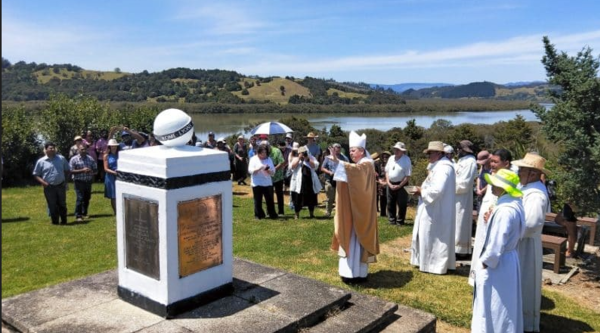 Bishop of Auckland Stephen Lowe will celebrate a special Mass at 11am this Sunday at remote Totara Point on the Hokianga Harbour, marking the 185th anniversary of Bishop Jean Baptiste François Pompallier celebrating the country's first Catholic Mass there in 1838.
Update 8am Sunday 8 January: Due to unforeseen circumstances, the Totara Point Anniversary Mass has been moved to Our Lady of the Assumption Catholic Church at 193 Motukaraka Point Road, Motukaraka, at the same time of 11am followed by a shared kai down at Ngāi Tupoto Marae. Apologies for any inconvenience and thank you for your understanding.
"The annual Totara Point Mass is a significant event on the calendar of the Catholic Church in Aotearoa New Zealand," says Bishop Lowe, who is also Vice-President and Secretary of the NZ Catholic Bishops Conference and was Bishop of Hamilton before his Auckland appointment 13 months ago.
Bishop Pompallier (this country's first Catholic bishop) arrived by ship from France at the northern Hokianga Harbour on 10 January 1838, meeting settlers Mary and Thomas Poynton, who had travelled to Sydney to ask for a Catholic priest to serve the Catholic community in pre-Treaty New Zealand. He celebrated the historic Mass at Totara Point there three days later, on 13 January.
The site features a monument erected in 1938 for the centenary of that first Mass (see picture above). Each year, a commemorative Mass is held there, though last year's was cancelled because of the Covid-19 pandemic.
"The Mass not only celebrates Bishop Pompallier's arrival and the first Mass on our shores, but also Mary and Thomas Poynton's appeal for a priest for New Zealand," says Bishop Lowe. "It remembers Bishop Pompallier's engagement with Māori and how this shaped him as a missionary and in his own sense of the workings of God in our lives.
"It has been my privilege to celebrate the Totara Point Miha on three occasions as Bishop of Hamilton. I look forward to celebrating this year's memorial Mass as Bishop of Auckland with the descendants of those who Bishop Pompallier pastored with and with pilgrims from across the motu."
This Sunday is the Solemnity of the Epiphany. Bishop Lowe invites anyone in the Hokianga area or on holiday or travelling there to attend the Mass, taking note of the rainy weather forecast for the area at times this weekend.
For those who want to travel there, go to 619 Kohukohu Road, (Twin Coast Discovery Highway) Kohukohu, about 6km north of the Rawene ferry. Take the farm road there to the memorial, going straight ahead, not turning left.
See the latest Northland Weather forecast here.
Read more:
• Bishop Pompallier article in Te Ara Encyclopedia of NZ.
• Wikipedia article on Mary and Thomas Poynton.
• NZ Catholic article on Bishop Lowe celebrating 2020 Mass at Totara Point.
Photo at top: Bishop Lowe celebrating the 2020 Mass at Totara Point. Credit: NZ Catholic.