NZ bishops publish significant expanded statement on the importance of respecting all life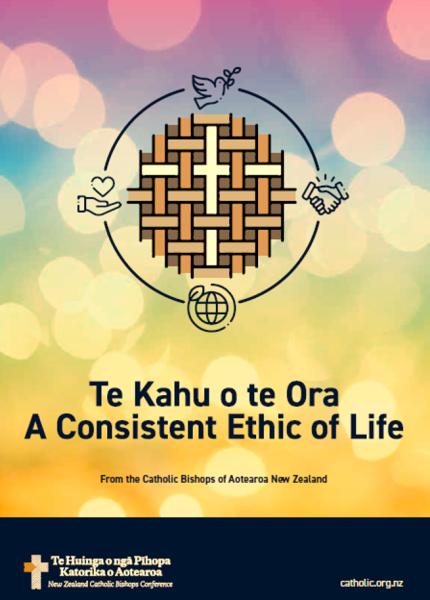 New Zealand's Catholic bishops have updated and expanded for the 2020s an important 1997 document that inspires active protection and promotion of all life.
NZ Catholic Bishops Conference President Stephen Lowe, the Bishop of Auckland, says the revised and expanded version of Te Kahu o te Ora – A Consistent Ethic of Life reminds us that all life is a gift of God.
"This understanding of the sacredness of all life guides us in making decisions in regards to human life in all its stages, our care for the vulnerable and our care of the Earth," he says.
The document has been published today as a 56-page booklet, ahead of the annual Catholic Church celebration of Support Life Sunday on the weekend of October 7 and 8. This year's Support Life Sunday theme – A Consistent Ethic of Life – is taken from the title of the revised document.
Bishop Lowe says the revision of Te Kahu o te Ora is timely: "While traditional human life issues continue to need our attention, we are now facing many new problems, all interlinked. The key message of Te Kahu o te Ora is that everything is connected, whether it is life in the womb or the life of the Earth."
Bishop Lowe says Pope Benedict put it well some years ago when he said: "There are so many kinds of desert. There is the desert of poverty, the desert of hunger and thirst, the desert of abandonment, of loneliness, of destroyed love. There is the desert of God's darkness, the emptiness of souls no longer aware of their dignity or the goal of human life. The external deserts in the world are growing, because the internal deserts have become so vast."
The original Te Kahu o te Ora was inspired by the concept of a "consistent ethic of life" developed by Cardinal Joseph Bernardin (April 2 1928-November 14 1996) who was Archbishop of Chicago from 1982 until his death. Cardinal Bernardin's work grew from his observation that because all human life is sacred, we must act consistently. It was inconsistent to protect life in some situations but not protect it in others, he said. When life was considered "cheap" or easily expendable in one area, eventually nothing was held as sacred.
The reference to "kahu" in the title is a rich image in tikanga Māori. Kahu can refer to a cape or garment, but it can also refer to the protective amniotic sac membrane that surrounds the embryo, then fetus, before birth – the first garment that each of us is gifted with in the womb.
Dr John Kleinsman, director of the bishops' Nathaniel Centre for Bioethics, expressed delight with the document's succinct overview of eight key moral areas, including a new section on information technology and artificial intelligence.
"I can see this becoming an important resource for classrooms, school boards, marriage preparation, parish groups such as Rite of Christian Initiation of Adults; indeed anyone interested in what we Catholics believe and why," Dr Kleinsman said.
"Often, people know what the Church teaches on a particular topic, but it can be challenging to have an open informed discussion with other family or friends about why. Te Kahu o te Ora provides a great summary of key points which can give people greater insights into Catholic thinking."
Dr Kleinsman said a guide to help people use the document as a formation tool was being planned.
Bishop Lowe says the bishops want every Catholic to read Te Kahu o te Ora: "We are confident that reflecting on the document will foster hope-filled conversations that will lead to attitudinal change and positive action towards a better world in which all life is consistently treasured and protected."