And then there were six: First formal photo of the six Catholic Bishops of Aotearoa NZ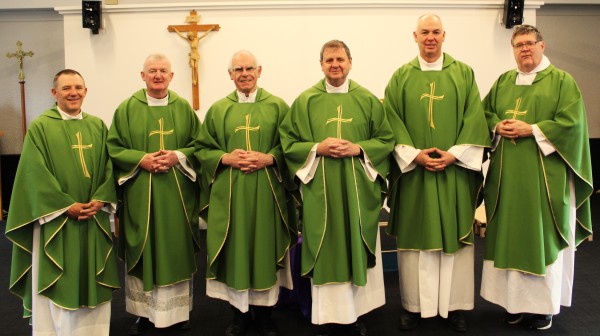 For the first time since October 2019, each of the six Catholic dioceses of Aotearoa New Zealand has a bishop. Here is the first formal photo of all six bishops, taken after they celebrated Mass at Connolly Hall in Wellington on Wednesday 8 November, before attending day three of the NZ Catholic Bishops Conference meeting being held in the capital from Monday to Thursday of this week.
From left: Bishop Michael Gielen (Christchurch); Bishop John Adams (Palmerston North); Bishop Michael Dooley (Dunedin), Bishop Stephen Lowe (Auckland); Archbishop Paul Martin SM (Wellington) and Bishop-elect Richard Laurenson (Hamilton).
Bishop-elect Laurenson, currently the parish priest of All Saints by the Sea, Papamoa Coast, in the Hamilton Diocese, will be ordained on 8 December. Bishop Lowe, the previous Bishop of Hamilton, was appointed Bishop of Auckland in December 2021, replacing Bishop Pat Dunn, who retired.
Bishop Adams was ordained and installed as Bishop of Palmerston North on 30 September, almost exactly four years after the resignation of Bishop Charles Drennan.
Bishop Gielen was appointed Bishop of Christchurch in May 2022. He had previously been Auxiliary Bishop of Auckland, an appointment made in January 2020. Archbishop Martin was the previous Bishop of Christchurch, from March 2018 until his appointment as Coadjutor Archbishop of Wellington in January 2021, to assist and then replace Cardinal John Dew, who retired in May.
Bishop Dooley became Bishop of Dunedin in April 2018 on the retirement of Bishop Colin Campbell.