NZ Catholic Bishops Conference leadership positions announced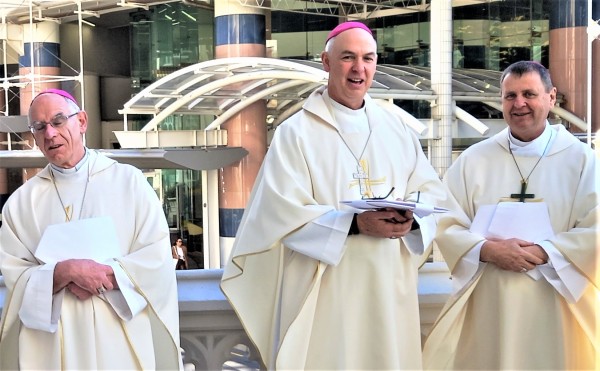 The Catholic bishops of Aotearoa New Zealand meeting in conference in Auckland this week have agreed on their new leadership roles.
Bishop of Auckland Stephen Lowe (at right in photo) is now President of the NZ Catholic Bishops Conference, the national body for the bishops of Aotearoa New Zealand.
Bishop of Dunedin Michael Dooley (left) is now the Vice President of the NZCBC.
Archbishop of Wellington Paul Martin SM (centre) is now the NZCBC General Secretary.
The bishops have been meeting this week at the Mary MacKillop Centre in Kohimarama, Auckland, in the second of their four standard formal meetings of the year.
Hokitika-born Bishop Lowe was ordained a priest in 1996. He was appointed Bishop of Hamilton in 2014, then Bishop of Auckland at the end of 2021.
Bishop Dooley, born in Invercargill, was ordained a priest in 1989 and became Bishop of Dunedin in 2018.
Hastings-born Archbishop Martin was ordained a Marist priest in 1993. He became Bishop of Christchurch in 2018 and took over the role of Archbishop of Wellington this month on the retirement of Cardinal John Dew.