Director sought for the Catholic Enquiry Centre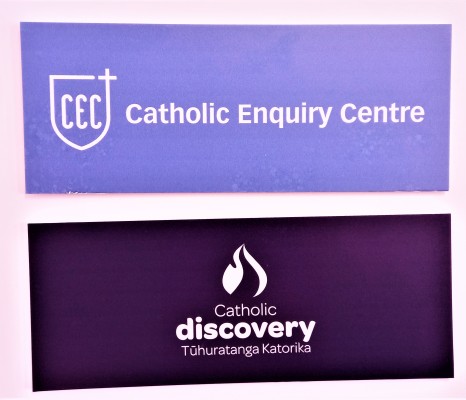 The New Zealand Catholic Bishops' Conference is looking for a Director for the Catholic Enquiry Centre. This is a full-time three-year fixed term role. It will suit someone who has a passion for evangelisation with strong leadership, communication, and administrative and financial skills. They should also be able to develop collegial relationships across dioceses and parishes. Applications to Maria Lucero mlucero@nzcbc.org.nz by 20 October.
About the CEC
The Catholic Enquiry Centre helps to make the Church more alive in Aotearoa and make Christ more known by informing and inspiring faith inquirers. It is a point of contact for either non-Catholics or people with no religious background searching for more; those who were once Catholics finding their way back; or Catholics looking to deepen and be more active in their faith to share it with others, inviting them to an experience with Christ through attending events and reading digital and published materials.
The Catholic Church in Aotearoa NZ is committed to a deepening understanding of the principles of Te Tiriti o Waitangi / Treaty of Waitangi with a bi-cultural way of working across all ministries.
The bishops are trialling a new structure for the CEC and are seeking a fixed term appointment for a new CEC Director role. A three-year term offers time for the role to become embedded, while providing an opportunity for review.
About the Role
This key role involves working and engaging transparently in a synodal way with staff and volunteers. It is a role that is visible, and travel to visit with parishes and dioceses around New Zealand is an expected component of the role. The Director is responsible for building relationships with priests, lay leaders, and parishioners, drawing them into a strong and supportive network of people committed to evangelisation.
Key Responsibilities
The work of the Director is carried out in close collaboration with the CEC Pastoral Director/Chaplain, Engagement Manager and Office Manager, and alongside the NZCBC Secretariat. Responsibilities include:
1: Strategy
Coordinating the development of a CEC multi-year strategic plan and annual work plan
2: Administration
Providing effective and efficient leadership of the CEC, ensuring it has sound administrative, financial and personnel processes and policies and ensuring that the Centre is financially sustainable by gathering support for evangelisation through fundraising initiatives.
3: Inquirers
Bringing people together to develop contemporary ways and promotional materials (written and digital) for the CEC to engage with the enquirers, who are seeking to discover more about Catholic life, faith and belief, and ensuring enquirers have connections with priests, parishes or other Church agencies and programmes as appropriate.
4: Messaging & resources
Supporting the development or redevelopment of messaging and resources to engage with the range of people that the CEC communicates with, such as the wider public, enquirers, CEC supporters and promoters in response to changing or emerging needs, as well as assisting wider NZCBC and the NZCBC Communications Adviser on shared initiatives.
5: Outreach
Working with other church organisations and initiatives (including the Catholic school system) and visiting parishes regularly to encourage and engage Catholics in the work of sharing their faith, equip them with relevant resources, promote the work of the CEC, and gather support from the people for this work.
6: Projects
Leading/supporting the planning and implementation of projects which include, but are not limited to, print and digital content, and events or speaker tours for which the Engagement Manager and/or Office Manager are responsible, as well as regularly reviewing and evaluating the projects' effectiveness.
7: Catholic Character
Fostering an authentic Catholic character in the work, culture, and spirit of the CEC.
The successful applicant will have:
• A passion for evangelisation and the ability to inspire others
• Ability to foster a synodal and collaborative team environment
• A passion for promoting the CEC and attracting supporters
• Strong knowledge of the Church through relevant studies or experience
• Ability to relate well to people and have warmth and empathy in communicating
• Experience with administrative, financial and people leadership
• Ability to build a good rapport with clergy and pastoral leaders
• Competence in writing and speaking skills, including writing for digital platforms and speaking to large groups
• Ability to consider relevant faith topics to a deep level
• Willingness and ability to travel regularly within New Zealand
• Understanding of Te Tiriti o Waitangi / Treaty of Waitangi or willingness to develop this understanding
• A commitment to the vision, mission and values of the New Zealand Catholic Church
For a detailed role description, please email Maria Lucero at mlucero@nzcbc.org.nz
Please submit your applications (cover letter and CV) via email to: mlucero@nzcbc.org.nz
Applications close on Thursday, 20 October.

Inquiries: Maria Lucero, Manager, NZCBC, Phone +64 4 496 1747