Kiwi vice-chancellor's mission: Oasis of peace for students at Bethlehem University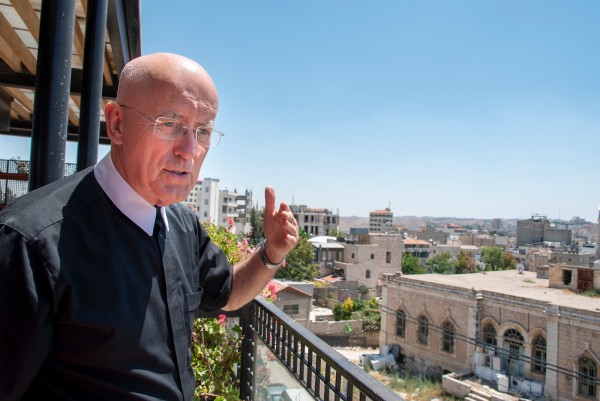 New Zealander and Bethlehem University vice-chancellor Brother Peter Bray FSC strives daily to ensure his students feel safe on campus and won't have guns put in their faces as can happen at the Israeli checkpoints on their way to and from their studies.
"I talk about this university as being a little oasis of peace in the midst of all this stuff that's going on around them," says Br Peter, pictured, who will make a speaking tour of New Zealand early next year about Palestine on behalf of the NZ Catholic Bishops Conference.
In preparation for his visit, Br Peter is making a series of videos on behalf of the bishops about the daily lives of Palestinians in the Israeli-occupied West Bank territory, where Bethlehem University was founded by his De la Salle Bothers in 1973 as the first and only Catholic university in the Holy Land. It currently has 3259 students (Muslim and Christian), 17,282 graduates and 214 faculty members. The university celebrates its Golden Jubilee in 2023.
Br Peter, raised in Waitara in Taranaki, moved to Bethlehem from Wellington in 2008 to take up the vice-chancellor role. His work as a teacher and education consultant has taken him around the world.
The videos and Br Peter's speaking tour follow the New Zealand Catholic bishops publishing a statement in July urging action to solve the long-standing Israel-Palestine issue. It is available here on a web page and here in PDF format.
In his second video, Br Peter and students look at the difficulties the students face getting to the Bethlehem campus from their homes in the West Bank and nearby Jerusalem, which is separated from Bethlehem by a high concrete wall built by the Israelis after a Palestinian uprising against the Israeli occupation in the early 2000s.
"Almost half of our students come from Jerusalem," Br Peter says in the video. "Each day they are faced with the possibility, in coming on the bus, of the bus being stopped; of the Israeli soldiers forcing them off the bus, where they can be interviewed, or where they can be arrested, or they can have a gun put in their face, before they come to Bethlehem University. It does not happen all the time, but the unpredictability of it is what is so unsettling for them.
"These restrictions on them make it very difficult, so one of the things I am particularly conscious of is what Bethlehem University can do to help those students cope with that. One of the things that I keep emphasising here is that we want them, when they step on to this campus, to know that they are safe, that nobody is going to arrest them here, that nobody is going to interrogate them here, that nobody is going to put a gun in their face here. This is a safe place for them."
The video also has interviews with students:
Says Ameeneh: "I have to cross checkpoints which is something really hard for me as a Palestinian, because first of all, it takes time and second thing it's not an easy situation to stand in line, to show your ID, and have a soldier tell you if you can pass the checkpoint or not. It might be a bit dangerous sometimes."
And Vazken: "The biggest challenge I'd say is not just crossing the checkpoint, but the checkpoint itself, because not only is it a hassle to go to the university then come back every day, it also limits my ability to see my friends."
And Ghadeer: "Living under Occupation is hard for us, because the situation is unpredictable, you may be arrested on the checkpoint for no reason, you may be at checkpoint wait for several hours."
Br Peter's hopes to start his speaking tour about 24 January, likely starting in Hawkes Bay, followed by Palmerston North, New Plymouth, Wellington, Christchurch, Dunedin, Hamilton, Auckland and Whangarei, ending about 8 February. The NZCBC will make his firm itinerary available when it is settled.
The special series of videos is called Greetings from Bethlehem. The first is titled Ordinary People in an Extraordinary Place; Palestinians in the Holy Land, and can be viewed here.
The second video is titled The Challenges of Ordinary People in Palestine and can be viewed here.