Details of NZ speaking tour on Palestine by Brother Peter Bray FSC, Vice-Chancellor of Bethlehem University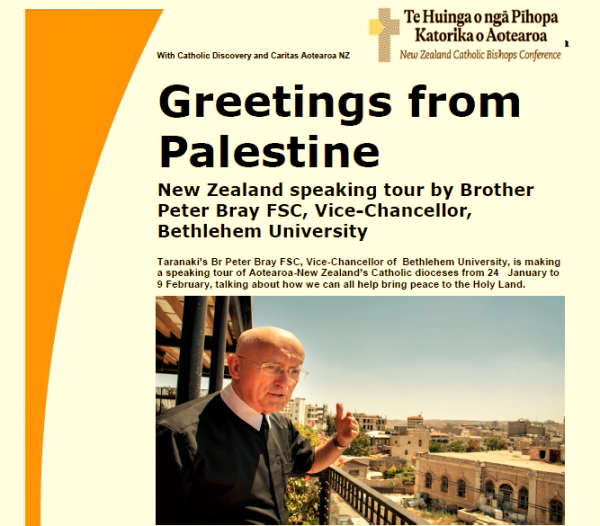 • Here's a video of the full presentation by Br Peter Bray FSC from his recent Greetings from Palestine speaking tour. It's of his Christchurch talk at Villa Maria College on 2 February, videoed by Rebecca Taylor-Hunt of the Catholic Enquiry Centre.
Taranaki's Brother Peter Bray FSC, Vice-Chancellor of Bethlehem University, is making a speaking tour of Aotearoa-New Zealand's Catholic dioceses talking about how Kiwis can help bring peace to the Holy Land.

Br Peter has been invited by the NZ Catholic Bishops Conference for a speaking tour of the six dioceses between 24 January and 9 February.
Br Peter moved from Wellington to Bethlehem, the birthplace of Jesus, in 2008 to take up the vice-chancellor role. His work as a teacher and education consultant has taken him around the world.
Bethlehem University was founded by Br Peter's De la Salle Bothers in 1973. It was the first registered university established in the Occupied West Bank territory of Palestine and is the only Catholic university in the Holy Land. It currently has 3259 students (Muslim and Christian), 17,282 graduates and 214 faculty members. It celebrates its Golden Jubilee this year.
Br Peter's speaking tour follow the New Zealand Catholic bishops publishing a statement last July urging action to solve the decades-old Israel-Palestine issue.
This is the itinerary for his tour:
Diocese of Palmerston North
• Tuesday 24 January, 7pm St Mary's Church, Taradale, 58 Osier Road, Greenmeadows, Napier
• Wednesday 25 January, 7pm Te Rau Aroha-The Diocesan Centre, Palmerston North, 33 Amesbury Street
• Thursday 26 January, 7pm St Joseph's Church, New Plymouth, 106 Powderham Street
Archdiocese of Wellington
• Monday 30 January, 6.30pm St Thomas More Church & Hall, 30 Worcester Street, Wilton
Diocese of Dunedin
• Tuesday 31 January, 7pm Holy Name Catholic Church, 420 Great King Street, Dunedin North
Diocese of Christchurch
• Thursday 2 February, 7.30pm Villa Maria College, Te Manawa Atawhai Catherine McAuley Centre, 21 Peer Street, Upper Riccarton, Christchurch
Diocese of Hamilton
• Tuesday, 7 February, 5pm Cathedral of the Blessed Virgin Mary, 494 Grey St, Hamilton East
Diocese of Auckland
• Wednesday, 8 February, 7pm Poynton Room, Pompallier Diocesan Centre, 30 New Street, Ponsonby, Auckland
• Thursday 9 February, 7pm St Francis Xavier Catholic School staff room, Whangarei, 1 Percy Street, Kensington
In preparation for his speaking tour, Br Peter has made three videos based on his daily work with Palestinians and Palestinian students at Bethlehem University. The videos are online here.
The bishops' statement on Palestine is online here.
• Update February 17: Australian Catholic University has awarded Br Peter an honorary doctorate for his work overseeing Bethlehem University as an "oasis of peace" for Palestinian students. Read the university announcement on a webpage here or as a PDF here.