Fr Richard Laurenson appointed Catholic Bishop of Hamilton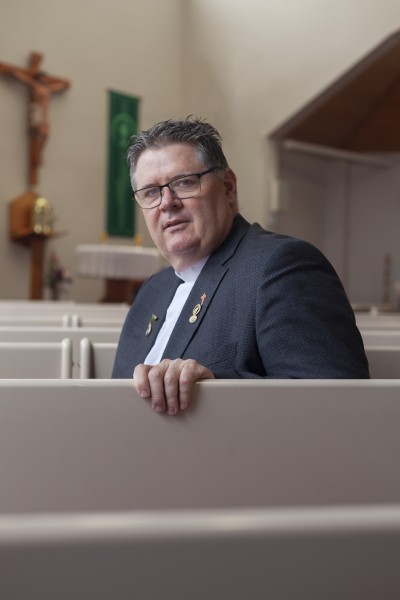 Pope Francis has appointed Father Richard Laurenson from the Diocese of Hamilton as the new Catholic Bishop of Hamilton.
The appointment was announced in Rome at 11pm New Zealand time tonight, Wednesday 25 October.
Bishop-elect Laurenson replaces Bishop Stephen Lowe, who was appointed Bishop of Auckland in December 2021. It means all six New Zealand dioceses now have a bishop, following the recent ordination and installation of Bishop John Adams as Bishop of Palmerston North.
Bishop-elect Laurenson says he is looking forward to his new role with a mix of fear and peace and is praying that he does not disappoint.
"When I was ordained Deacon in December 1994, I gave my life to the Lord, singing a hymn of St Ignatius: 'Take Lord, receive, all my liberty, my understanding, my entire will.' I have reaffirmed that gift many times over the years. Being a sinner I often 'take' the offer back, but I do intend once more to submit my will to his. This I resolved again to do when I was asked to by Pope Francis to become the bishop for Hamilton. Since then I keep moving between peace and terror, especially when I look at the future only known to God. Trust is an easy word, but difficult to live. I find it hard to believe that the Lord wants me to do this, I pray that I do not disappoint him too much."
Currently the parish priest at All Saints by the Sea, Papamoa Coast, Bishop-elect Laurenson was born in Hamilton in 1968. He was ordained as a Hamilton diocesan priest by Bishop Denis Browne in 1995 and has since served as parish priest in many parts of the diocese, including St Joseph, Waihi; Immaculate Conception, Taumarunui; St Joseph, Fairfield and St Peter Chanel, Te Rapa; and Holy Cross, Hamilton North.
Bishop-elect Laurenson attended Holy Cross Seminary in Mosgiel. He has a Baccalaureate in Theology from Otago University (1992) and studied for and obtained a Licentiate in Canon Law from Pontifical Urbaniana University in Rome from 2007 to 2010.
He is also currently diocesan Chancellor, Vicar for Marriage, a member of the College of Consultors and, since 2019, Defender of the Bond at the Tribunal of the Catholic Church in New Zealand. He was a judge and associate judicial vicar from 2016 to 2019. As a military chaplain for a decade, he served for a time with peacekeeping forces in Bougainville and Timor Leste.
Bishop Lowe, who is also President of the NZ Catholic Bishops Conference, says: "I was delighted to receive the news that Pope Francis had appointed Fr Richard Laurenson as the fourth Bishop of Hamilton. Bishop-elect Richard will be the first Bishop of the Diocese who was born and grew up in the Diocese [Bishop Max Takuira Mariu, also a son of the Diocese, was Auxiliary Bishop of Hamilton 1988-2005]. Bishop-elect Richard brings a wealth of experience to the role and will be a blessing to the people and priests of the Diocese of Hamilton."
Bishop-elect Laurenson says being a parish priest means always thinking parochially, with a nod to diocesan impacts.
"This change in my situation will take some getting used to, so I beg the indulgence of my brother priests and the good people of God in the diocese as we all get to grips with my new situation.
"What do we need to be doing in the diocese once the dust settles?" asks Bishop-elect Laurenson. "Given that it is too early to make pronouncements in this area, I have always had a passion for evangelisation and the RICA/RCIC [Rite of Christian Initiation of Adults and Children], and this passion will continue.
"The worship of God is our number one reason for being Catholic, so the promotion of Good and Godly Liturgy will be a personal priority. To enable the right worship of God we need priests, holy priests, so calling our young men to a life of brave adventure with the Lord is more necessary than ever. One thing generally lacking in all our dioceses is widespread, good parish-based Catechesis for our practising adults of all ages. This too is something that would benefit from our attention."
• Bishop-elect Laurenson is expected to be ordained on Friday 8 December, the Feast of the Immaculate Conception, at a time still to be determined.
Below: Bishop-elect Richard Laurenson with his cat Josie, "the reason I don't wear black."