A Bethlehem Christmas message from Br Peter Bray about his NZCBC speaking tour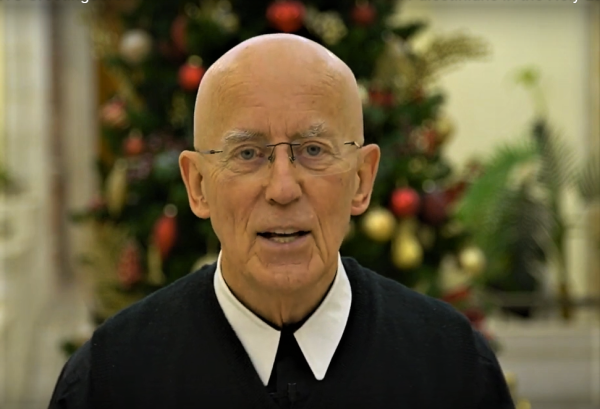 As Bethlehem University Vice-Chancellor Brother Peter Bray FSC prepares for his New Zealand speaking tour, he has sent a Christmas message to Kiwis from Bethlehem asking how we can help bring peace to the Holy Land.
Taranaki-raised Br Peter has been invited by the NZ Catholic Bishops Conference for a tour of all six New Zealand dioceses between 24 January and 9 February.
"As we approach Christmas from this little town of Bethlehem, where Jesus was born, I wish you God's blessing as you celebrate Christmas in New Zealand," says Br Peter in a new video posted today.
"The question I'll be asking [in New Zealand] is 'what can you do to stand in solidarity with the Palestinian people in resisting injustice in this Holy Land and bringing peace?'," he asks.
Br Peter has now made three videos on behalf of the bishops about the daily lives of Palestinians in the Israeli-occupied West Bank territory, where Bethlehem University was founded by his De la Salle Bothers in 1973 as the first and only Catholic university in the Holy Land. It currently has 3259 students (Muslim and Christian), 17,282 graduates and 214 faculty members. The university celebrates its Golden Jubilee in 2023.
Br Peter moved to Bethlehem from Wellington in 2008 to take up the vice-chancellor role. His work as a teacher and education consultant has taken him around the world.
The videos and Br Peter's speaking tour follow the New Zealand Catholic bishops publishing a statement in July urging action to solve the decades-old Israel-Palestine issue. It is available here on a web page and here in PDF format.
In today's video, Br Peter notes that the lived experience of harm endured by Palestinians on many levels can tempt people in the occupied territories to dehumanise all Israelis and to treat them with contempt.
"But what Dr Martin Luther King says is that to love our enemies means seeing every human being as a sister and a brother and doing everything we can not to harm them but to actively love them. This non-violent love does not mean lying down and rolling over. It is not passive. It is not succumbing to evil, but is responding to evil with good. It means making active non-violence a way of life.
"There is no easy answer, but to respond to violence with more violence is certainly not the answer. I think it means to non-violently resist by doing the things that make up our daily lives to resolutely carry on and show that there are things worth doing despite the oppression. Here at Bethlehem University we are doing just that."
Also in today's video, Bethlehem University's Professor Mazin Qumsiyeh says this about such resistance: "Everything we do is a form of resistance, so we say 'to exist is to resist' and for example, … at Bethlehem University of course we are engaged in this kind of resistance, because when our students come to classes, they are engaged in non-violent resistance because they go through checkpoints. We do an amazing job at Bethlehem University in the form of non-violent resistance by graduating our students and educating them for the future so that they use their minds instead of weapons to challenge the occupation."
Br Peter's speaking tour is expected to start on 24 January in Hawkes Bay, followed by Palmerston North, New Plymouth, Wellington, Christchurch, Dunedin, Hamilton, Auckland and Whangarei, ending on 9 February. The NZCBC will make his firm itinerary available when it is settled.
The special series of videos is called Greetings from Bethlehem. The first is titled Ordinary People in an Extraordinary Place; Palestinians in the Holy Land, and can be viewed here.
The second video is titled The Challenges of Ordinary People in Palestine and can be viewed here.
The third video in the series can be viewed here.