Christchurch Diocese hosting second Ablaze Parish Renewal Conference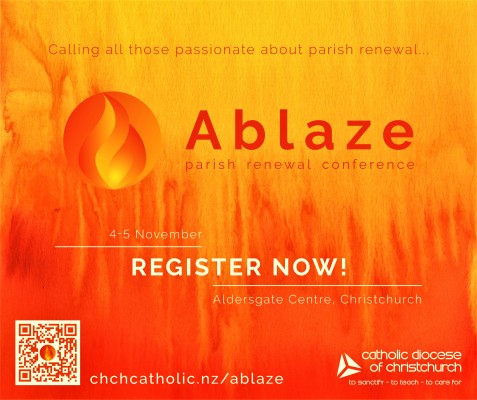 Christchurch Diocese will host a new Ablaze conference in November aimed at everyone interested in parish renewal.
The event will build on the first Ablaze held in 2017 and follows the lifting of the Covid-19 traffic light restrictions. It will be held on Friday 4 November and Saturday 5 November 2022 at the Aldersgate Centre, 309 Durham St North, Christchurch.
Bishop Of Christchurch Michael Gielen says the first Ablaze conference was a key focal point and impetus for evangelisation in the diocese. "As we return more and more to normal life, now is the right time to gather again and focus on helping our parishes and communities be more intentionally missional," he says.

Bishop Michael was one of the speakers at the first Ablaze conference in 2017 and will be a keynote speaker at this second one.
The two further keynote speakers will be:
• Anna Stuart, Director of Global Operations with the international Divine Renovation Ministry. She is a parishioner and chair at Saint Benedict Parish Council, Halifax, Nova Scotia, Canada. Anna will look at the three keys to Parish Renewal that can guide a parish towards mission – the power of the Holy Spirit, the primacy of evangelisation and the best of leadership.
• Fr Chris Ryan MGL, the parish priest of two parishes in the Sydney Archdiocese. His keynote will look at parish renewal, why we need it and how our transformation leads to a transformed world.
A number of workshops will build on the keynotes and provide forums for discussion.
Mike Stopforth, the Christchurch Bishop's Pastoral Office Director, says Ablaze will be suitable for clergy, parish leadership (leadership teams, pastoral councils), pastoral staff, youth ministry leaders, catechists, parish volunteers, school staff and all those interested in parish renewal. It will include a youth ministry leaders team.
"Ablaze will focus on parish renewal and our call to mission and faith in Christ," says Mike. "During the conference people can expect to be inspired by the keynote speakers, be provided with tools for mission through high-quality workshops, and experience times of prayer and liturgy."

Registrations are now open for Ablaze and all information can be found here on the Ablaze website.
For more information please contact Mike Stopforth, email mstopforth@chch.catholic.org.nz.